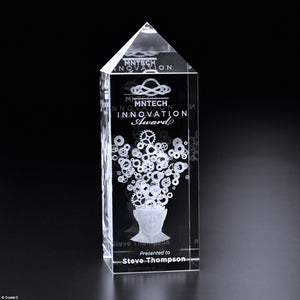 This magnificent piece is freestanding. Personalize it by subsurface engraving of your favorite image, Children, Parents, Grandparents, Spouse or favorite Pet.
Pricing comes in two parts, the Crystal itself and then the Personalization which is the most costly part of the piece. 
Pricing includes two half images/half Bodies or one full body
6."H x 3"W x 3"D

A lighted base comes with this crystal piece. A proof will be sent prior to production. Production time - 3 weeks.

Questions? Call 636-358-6303